ATHENS' TOP RATED LOCAL® ATTORNEY
AGGRESSIVE • EXPERIENCED • AFFORDABLE
DUI/OVI Lawyer in Athens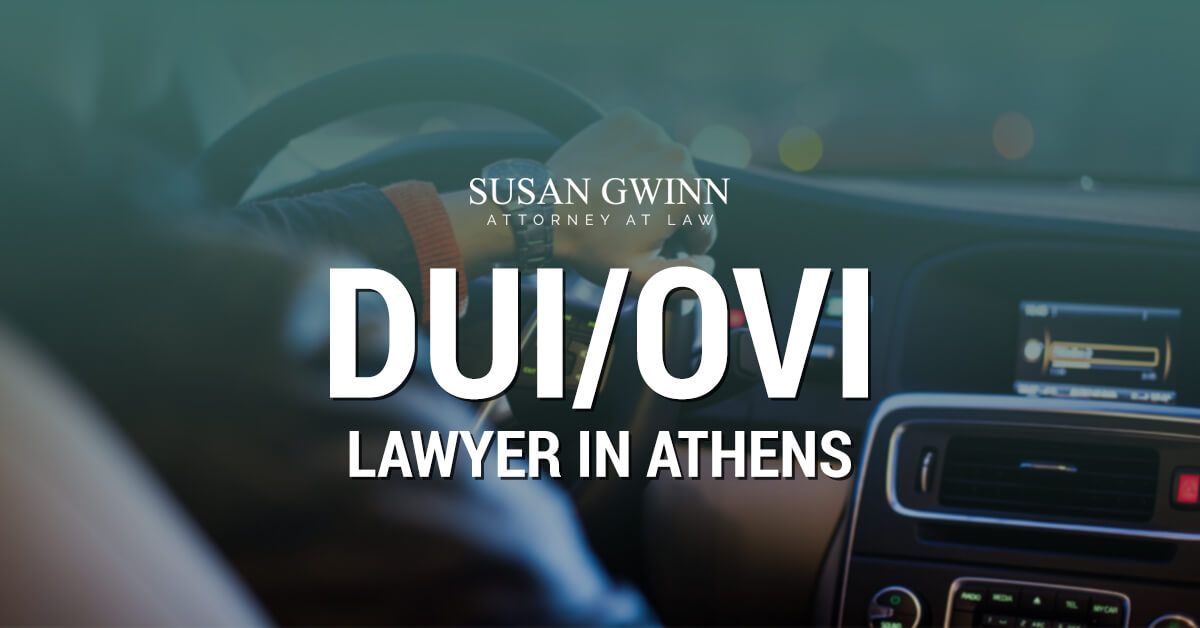 Susan Gwinn has over 25 years of experience as a criminal and traffic lawyer and has represented hundreds of individuals in misdemeanor and felony criminal law cases in Athens. Delaying seeking legal representation from our leading lawyer can have a detrimental effect on the ultimate outcome of your criminal case. Susan Gwinn represents many different citizens, including truck drivers in various traffic cases throughout southeastern Ohio, including the counties of Athens, Hocking, Jackson, Meigs, and Vinton.
There are many unknown pitfalls to handling criminal or traffic offenses on your own. For instance, most people are unaware that charges involving misdemeanor drug offenses can result in a six-month driver's license suspension even if you were not driving an automobile at the time of the offense. Or did you know that a misdemeanor drug offense can result in the loss of federal financial aid? Often, Susan can help you avoid these penalties.
Every case is different so please call or email her to be sure you understand what you need to do in your case. You can call Susan Gwinn at (740) 594-8686. Or email her at Susan@Gwinnlaw.com.
Can't make your court date?
Hiring an attorney can, on many occasions, prevent the need to appear in court on the date indicated on your ticket. However, unless you have a case continued by the court, you should never fail to make a court appearance. Hiring an attorney can, on some occasions, prevent the need to appear in court at all. Every case is different so don't hesitate to call to find out how an attorney might help you in your specific case and seek professional legal advice.
Have you been charged with a criminal offense? The time to seek legal representation can never be soon enough. Call to see learn if you should speak with law enforcement, or if you should hire representation in order to protect yourself. Many times people do not realize that their actions could result in criminal charges.
DUI Representation
If you are faced with a drunk driving charge, your first call should be to Susan Gwinn Attorney at Law. No two DUI cases are exactly the same, and there is no blanket answer that will work for everyone. Susan Gwinn, DUI lawyer, has worked with thousands of unique cases, from minor traffic issues to serious criminal offenses, and we would be happy to represent you and your needs.
Regardless of whether this is your first DUI charge or your third, you have many rights, including the right to counsel. This right is guaranteed by the Sixth Amendment, and it is in your best interest to take full advantage of your rights. Don't try to defend yourself. Unfortunately, this is a mistake that many people make, and it could lead to costly consequences. Make the smarter choice by turning to an experienced attorney in Athens.
Susan Gwinn is dedicated to always be here when you need her. She even has an after-hours emergency line, so that you never have to wait until 8 a.m. on Monday morning to get the help that you need. Susan Gwinn is aggressive, experienced, and affordable.
If you are faced with a DUI/OVI charge,
your first call should be to Susan Gwinn Attorney at Law
OVI Representation
What is an OVI? OVI stands for Operating a Vehicle Impaired. OVI was most commonly and formerly known as DUI, OMVI , DWI, or drunk driving. However, the Ohio General Assembly changed the statute to OVI in January of 2005. They did this to reflect the actual scope of the offense, stating that OVI doesn't require "driving" or that the "operation" be in a "motor vehicle."
You may think that you don't need an attorney to help you if you have been charged with an OVI in Ohio, but the fact of the matter is, you do. Understanding your OVI charge and sorting out the paperwork are just two things that our lawyer can provide for you when you come to us with an OVI case. We'll assess your situation, your charge, and how we can fight your case to the best of our abilities. It's good to keep in mind that all OVI offenses are different, and there are many different charges or penalties to examine. For instance, the penalty on your first offense will be smaller than if this OVI charge is your third or fourth offense. It is important to check with your OVI attorney in Ohio for specific charges you may be dealing with.
To get the help you need with your OVI charge, contact Susan Gwinn Law in Athens, Ohio! Schedule a consultation with her online now to learn all about her capabilities in dealing with your case.